Peace, Love, and Rainbow Vibes
We've talked about our obession for 90's fashion but we haven't touched on how some of our childhood was spent re-living the glory of the 70's. Every trend is resurrected from the black hole we thought they would stay in and guess what guys bell bottoms, daisy dukes, and that Farrah Fawcett hair were no expection to making a comeback. We fully support the revival and have embraced the aesthetic of the 70's in our wardrobes. We wanted to recreate those good time vibes with a modern take on the trend and a little less embarrassing documentation of those outfits.
Y'all know we have a deep love for the Aloha state so when we found Dolkii, a clothing line made in California with ALL the Hawaiian love, we couldn't resist adding a few pieces to our wardrobes. Dolkii was founded by two Hawaiian boss babe sisters and they have captured those tropical island vibes in their retro graphic tees. This 'ALOHA' distressed tee with the rainbow graphic makes us feel like we never left the island! What better way to pair this vintage tee than with pants that will make you look like an extra on Saturday Night Fever (we're totally kidding)! Call us crazy, but we don't ever think we'll be wearing bell bottoms again. We're cringing thinking about the proof that may be out there that we once did. We opted for high waisted denim with a contrasting wash detail on the sides. To complete the retro vibe of this outfit we paired it with the cutest lace up platform shoes. Don't forget about the details. We love these pom pom earrings and believe they scream seventies! Remember our DIY post about these babies?!
The rainbow vibes countinue with this 'no bad vibes' rainbow graphic tee. We could totally see Donna from That 70's show rockin' this classic ringer style shirt. We paired this simple graphic tee with black satin slit shorts to complete the retro vibe. These satin shorts would give Juno's Paulie Bleeker a run for his money. If shorts aren't your thing, any high waisted denim will also do the trick! We were still feelin' those pom pom vibes so we chose the stud style earrings to bring this fit all together.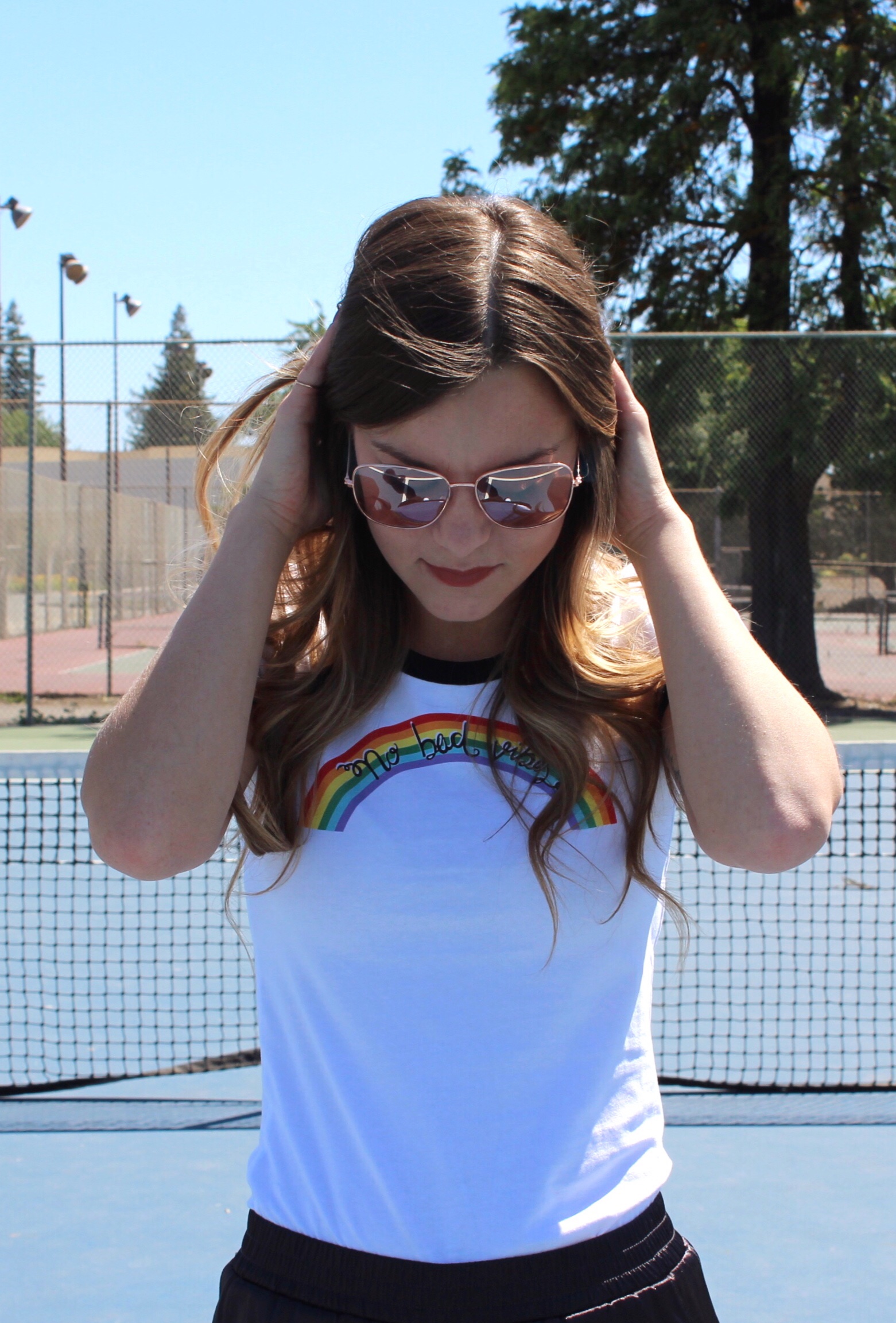 If you're not up for diving head first into the 70's era and whipping out your old bell bottoms and dashiki you can still achieve a subtle retro vibe outfit. Rocking graphic tees (you can even try wearing them inside out) with any pair of denim will seal the deal! Details are key so try to accessorize your fit with colorful earrings or some round sunglasses. You'll be lookin' like one of the OG Angles in no time...but without the finger guns.
In today's fashion world you can make a fashion trend work from pretty much any century! What are your favorite eras to pull outfit inspiration from? Be inspired!
xoxo
S&A
Shop the Looks!
OHBI