Thrifty Gals!
Here at OHBI some of our favorite outfits are created with some pre-loved pieces. We're talking about thrift stores y'all! We are firm believers and wearers of second hand items. All you need is an outfit vision and some hands to dig through the clothing racks. Before you decide thrift shops aren't for you, check out our super cute outfits below! The prints on some of these pieces will have you rethinking your thrift shop game. Our *HEART EYES* were in full effect over these two pieces in particular, just look at these prints!
Would you believe we paid only three dollars for this super cute skort?! Thats right, we said skort. The 90's are in full swing here at OHBI (as always). The old Hollywood glamour print caught our attention and we couldn't leave without this piece! Pairing it with a basic black tank that we already had in our wardrobe kept the attention on this amazing vintage print. We used pink and gold accessories to bring out all of the colors.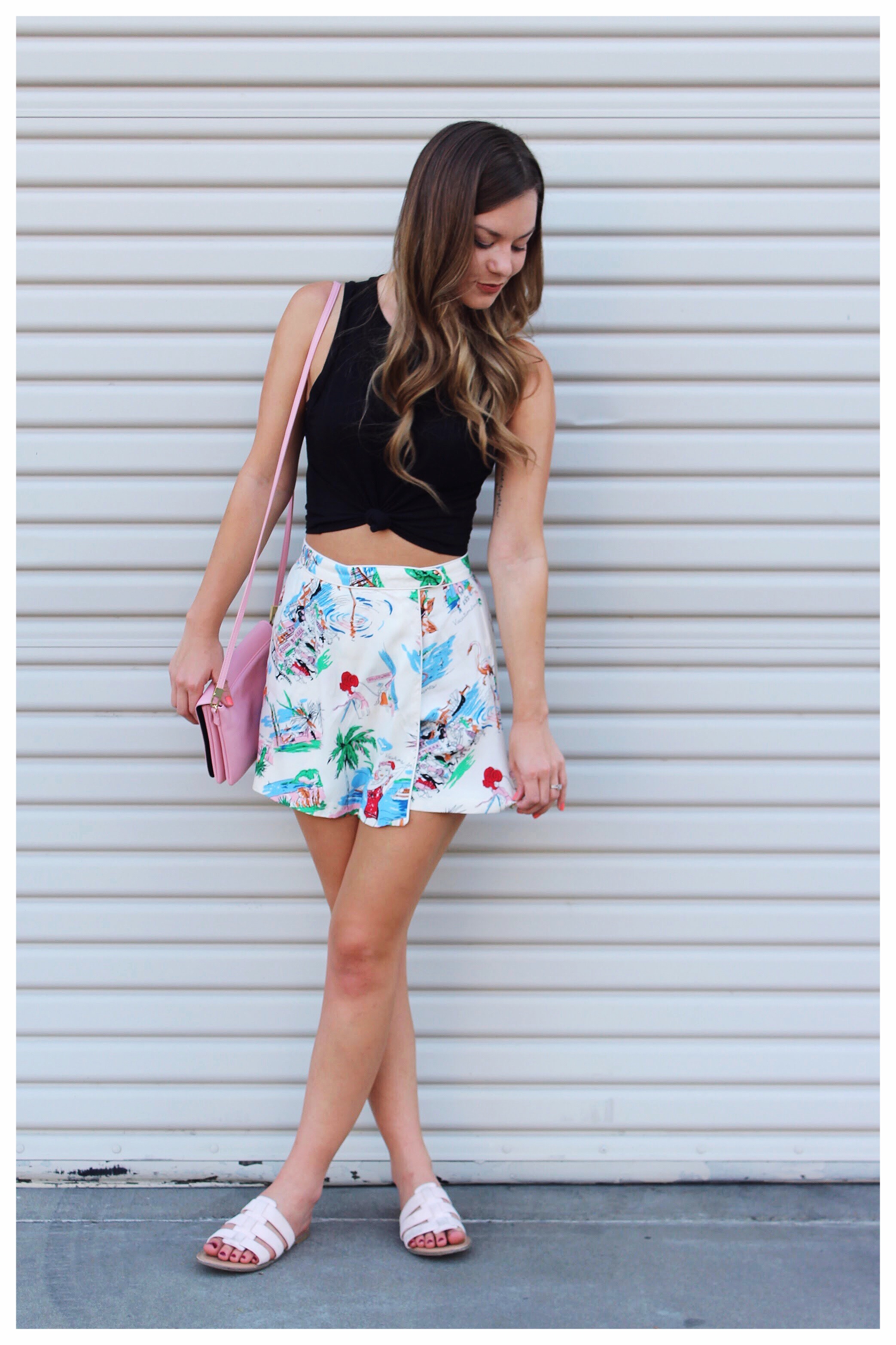 Channel your inner Macklemore and Ryan Lewis while thrifting. We're totally guilty of singing to ourselves "we're looking for a come up, this is effing awesome". With that motto ringing in our head we found this dreamy striped skirt. We were swooning over this piece because of those dark hues that we could rock during the summer but know would easily transition to the upcoming Fall season. We paired this maroon striped skirt with a basic white tee that we knotted because outfits are made when the details come together! Add a suede black belt, felt wide brimmed fedora, and statement pom pom earrings to take this outfit into the Fall season. We're not quite ready to give up summer so we tied this outfit all together with some open-toed wedges. You can easily wear your favorite ankle boots to create a solid OOTD for when the leaves start to fall! If your feelin' crafty here's an easy DIY for these adorable pom pom earnings.
This black side-slit midi t-shirt dress was another thrift shop find. It didn't even cost all of the $20 in our pocket (Clearly we're still singing Thrift Shop)! Since it's still summer around here we paired it with some light wash high waisted denim and a pair of black lace up heels. To bring this thrifted fit all together we added a black wide brimmed fedora for a little extra flare.
We're pretty sure our last thrift find has been around since the 90's! We like to imagine Phoebe Buffay from Friends rocking this adorable dress layered over a turtleneck and complimented by some outrageous Skittle colored coat, of course. This amazing sweetheart neckline dress didn't burn any holes in our pockets! Three dollars later and the addition of a few accessories we had an entire outfit. We loved the fedora so much we paired it with this floral femme dress and gave it an edgier vibe. The chain ankle booties tied the look together. Don't forget about your accessories y'all, we don't leave the house without a watch and a Maria Shireen HairTie bracelet! You can use our code: MSxOHBI to snag yourself one of these functional bracelets!
The key to thrifting is combining those pre-loved finds with pieces you already own to create a unique OOTD! Thrifting can sometimes be intimidating and time consuming but when you find that one of a kind shirt or those vintage boots it makes it all worth it! We hope y'all are inspired this week to head to your local thrift shop and become a thrifty gal too!
Tag us on Insta with #OHBIgirlgang to show us your thrifting come ups! You could also tell us about it in the comments below for a chance to win pom pom earrings. (Winner will be announced August 25th).
xoxo
S&A
OHBI