Snap, Crackle, Pop!
This week at OHBI we're all about that red, white, and blue! The 4th of July is one of our favorite holidays. We'll be celebrating our nations freedom with family and friends, BBQ, fireworks, and pool parties!
Sometimes you just have to buy that flag inspired T-shirt to complete your patriotic outfit. You may only wear it once that year but looking cute on the 4th is worth it right?! (Are we the only ones who use this justification?) We took our own advice and paired this cute cropped sweatshirt tee with some basic highwaisted denim. This top says "Fabulous fourth y'all" and last time we checked there's a fourth every month. That means you can wear this cute crop tee at least 12 times a year #winning! You can be a walking motivational sign and let the world know it's going to be a fabulous fourth! Especially if the fourth falls on a Monday because let's be honest, we all could use the extra motivation. Accessories are your best friend with a basic outfit so we chose this dreamy red suede belt. Throw on some of your favorite sneakers or sandals to complete this look.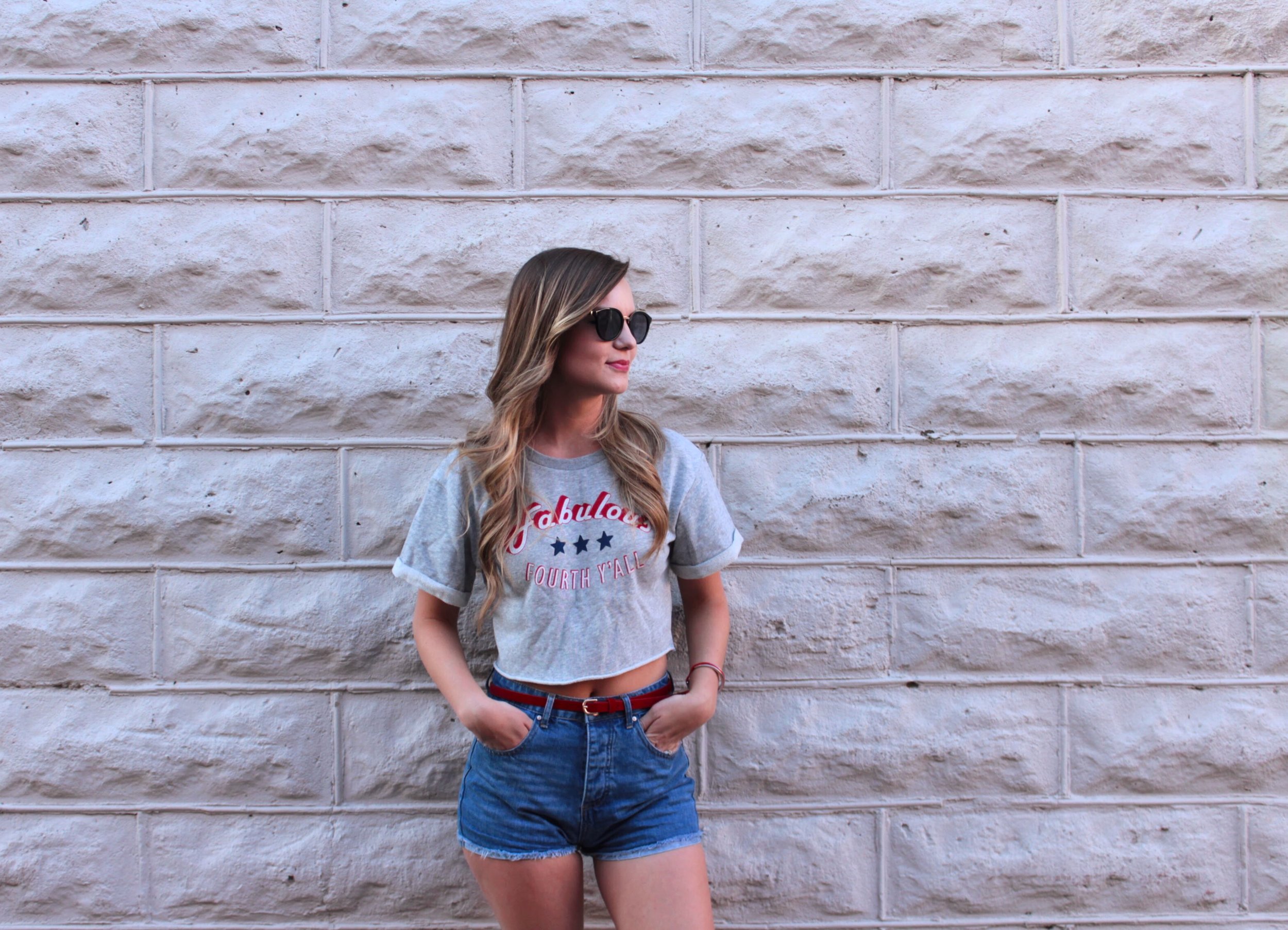 You can never own too many denim jackets and this jacket was one we couldn't pass up! However, finding the perfect denim jacket can sometimes be tough. There's no end to the amount of different washes and fits. This denim in particular had us swooning the moment we saw the acid stain wash. The patriotic vibes on the back were an added bonus (Sadly this jacket is sold out, but we linked another denim jacket that hit all of our check points). We paired this perfect oversized denim jacket with what we like to call fashion sweatshorts. These fashion shorts have a 'FREE' detail print on the leg. What better way to celebrate our independence than with the most comfortable and FREEing shorts?!? We completed this look with a basic white tee and for the sake of those deets we tied our tee in a knot for some added dimension. Slip on your favorite pair of sneakers and you're ready to attend all the celebrations!
We're bringing this shoot's inspiration all the way back from 2001 and channeling our teen selves. I'm sure we've all heard Independent Woman Part 1 by Destiny's Child but just in case you haven't here's our favorite lyric "All the women, who are independent throw your hands up at me"! July fourth may be the celebration of our Nation's Independence but none the less we are independent women and we'll be throwing our hands up in celebration of all the independence and our home in the USA!
However you spend the holiday we hope y'all are inspired to rock that patriotic outfit. Tag #OHBIofficial on Insta. We would love to see what outfits you come up with!
xoxo
S&A
Shop the Looks!
OHBI