New Year, Same Old Us
Let's start off by acknowledging a new year usually brings resolutions. A high percentage of NY resolutions fail so we're here to say that you don't have to set a resolution! There's no reason to stress out or set yourself up for failure by committing to unrealistic goals or something you don't even enjoy doing, like running (We'd rather do a million squats or just about anything else than run for one minute). We're all about growth and becoming a better version of yourself but the best advice we can give is to start small and enjoy what you're committing to. So here at OHBI, we will be going into a new year hoping to continue living an authentic life of creative and fun inspiration.

Check out how we're ringing in 2017. Leather, lace, and thigh high boots! It might sound like the beginning of 50 Shades but don't worry, we're only talking about our New Year's Eve wardrobe. All classic staples for celebrating the start of the new year.
We have two options for NYE outfits and you guessed it, they include all things black, of course. Our first pick is faux leather and lace. We paired these faux leather leggings with a lace bodysuit. This pick is perfect for a night out on the town.
Don't forget the details y'all. All the gold things! We are obsessing over this rose gold Flower Design Maria Shireen hair tie bracelet. It dresses up that pesky hair tie we wear on our wrist at all times incase of an emergency top knot situation.
A faux leather jacket and satin skater skirt is the key to any magical NYE spent out. We chose to wear some ankle booties to stay comfortable while dancing the night away!
Whether you spent a bubbly night out and are trying to recover or are just opted out of the party for a quiet night in with friends to watch the clock strike twelve, there's really no better way to spend the first day of the new year than eating brunch and drinking mimosas. Comfort is key for your wardrobe. We chose an oversized sweater dress and we just weren't ready to put the thigh high boots away yet. Wherever you're headed, these thigh high boots and clutch will do you no wrong!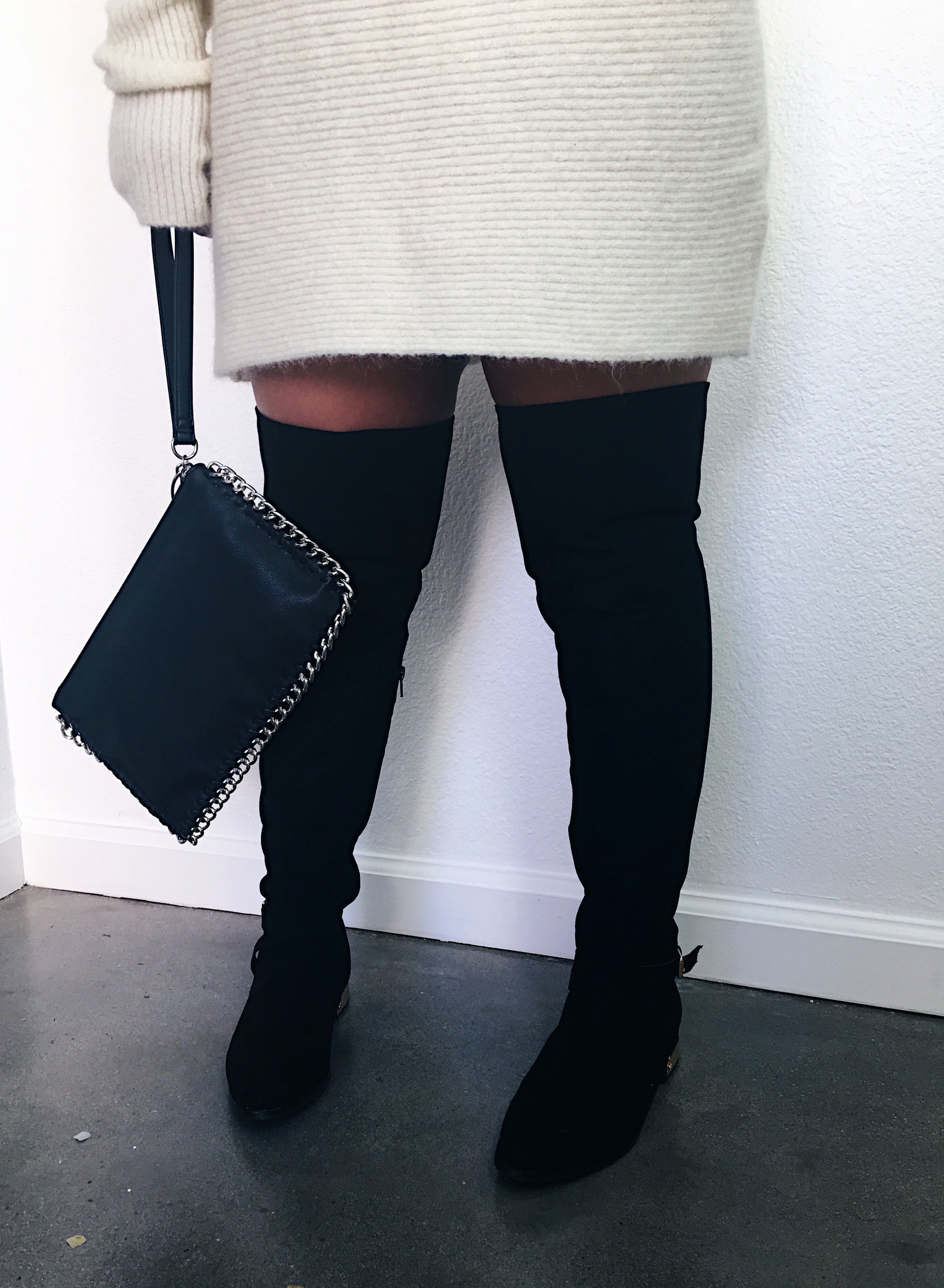 Happy New Year y'all, let's slay 2017!
xoxo
S&A
OHBI