Floral and Frills
We've been reminded by all of the beautiful blossoms that Spring is right around the corner. We might not be ready for swimsuits and exposing our once sun kissed skin but we are ready for some warmer weather, sunshine, and welcoming color and prints into our wardrobes. This week at OHBI we're talking about florals and frills!
These fun, flirty, and feminine details will brighten up and rejuvinate your winterized wardrobe. It's not quite the season for sun dresses but we're taking Spring head on and letting our legs out of those jeans! Wearing a sun dress with ankle booties is a perfect way to keep your outfit from looking to summery. Save the sandals for the summer solstice y'all.
We are swooning over this vintage floral dress that we resurrected from the back of our closet. It has a beautiful lace up detail on the back that allows you to cinch in the dress at the waist. Add a choker and a bright lip color to tie the details together. Although our dress is vintage we found another must have floral print sun dress from Zara that you can check out here!
If you're not quite ready for the floral prints add some dimension to your dress by picking something with frills! We chose this black jumper style dress and layered it with a blush pink long sleeve to brighten up the outfit.
We're giving winter the cold-shoulder and ready to start rocking off-the-shoulder tops. Even Kelly Kapowski would swoon over this white frilly top. We love how this top pairs perfectly with our favorite distressed denim. Complete this outfit with some comfortable heels or your favorite tennies and ZOOM you're spring ready!
We learned this tip from our many adventures to San Fransisco. A good bag is always required when walking through our favorite city to carry all of the essentials. Sun glasses, camera, water, and of course plenty of snacks. This floral backpack is perfect for a day spent adventuring or a sleepover at your biff's house. Not to mention, it is the epitome of spring while still incorporating our favorite color (black).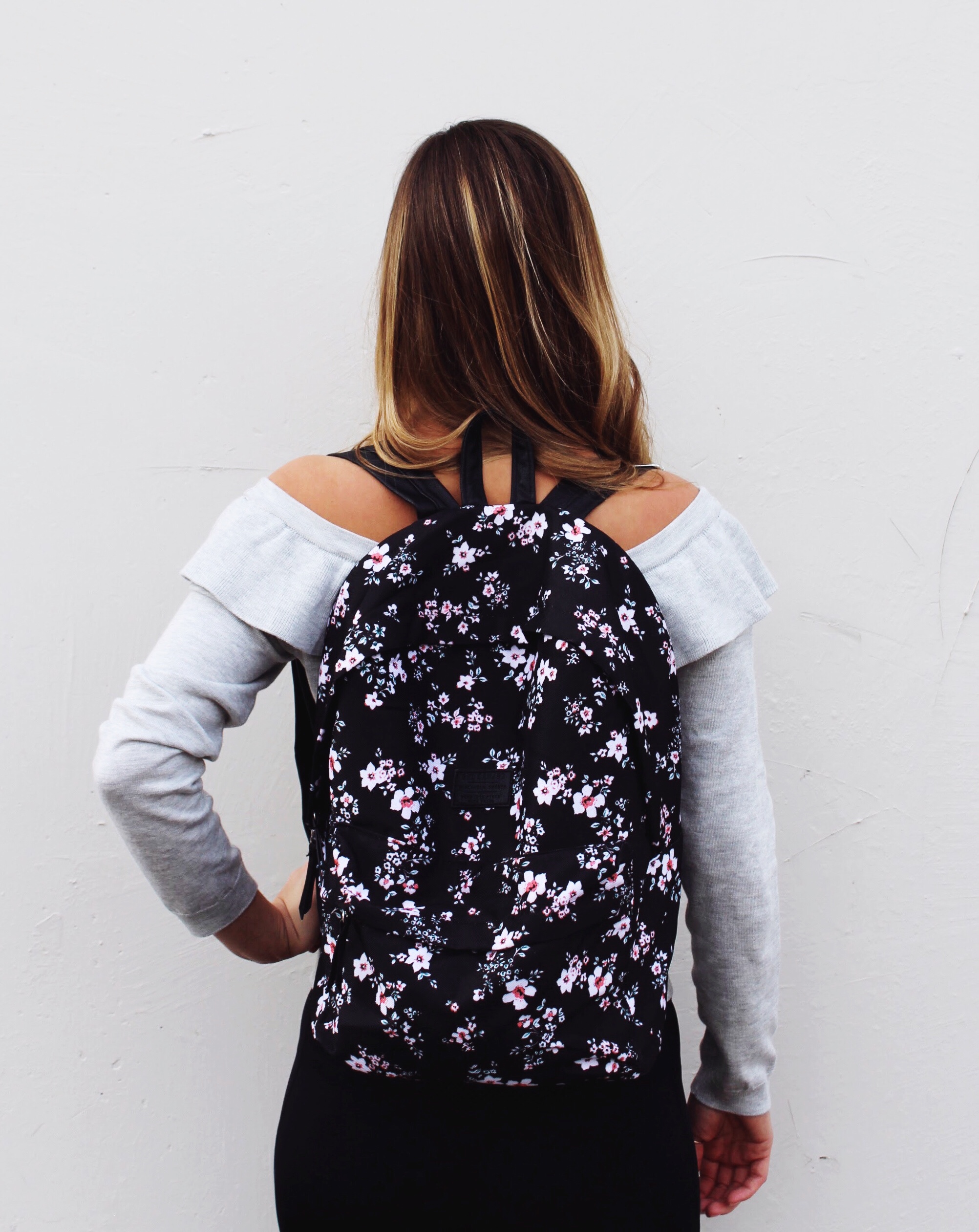 We fell in love with the floral trend so much that we couldn't stop at the dress and backpack. This silky oriental style bomber has all the right colors to remind us that warmer weather is on it's way! We layered it over a sheer floral print button up for a dressier look. This bomber is also an easy way to add color to a dark monochromatic outfit which we are obviously fans of most of the time.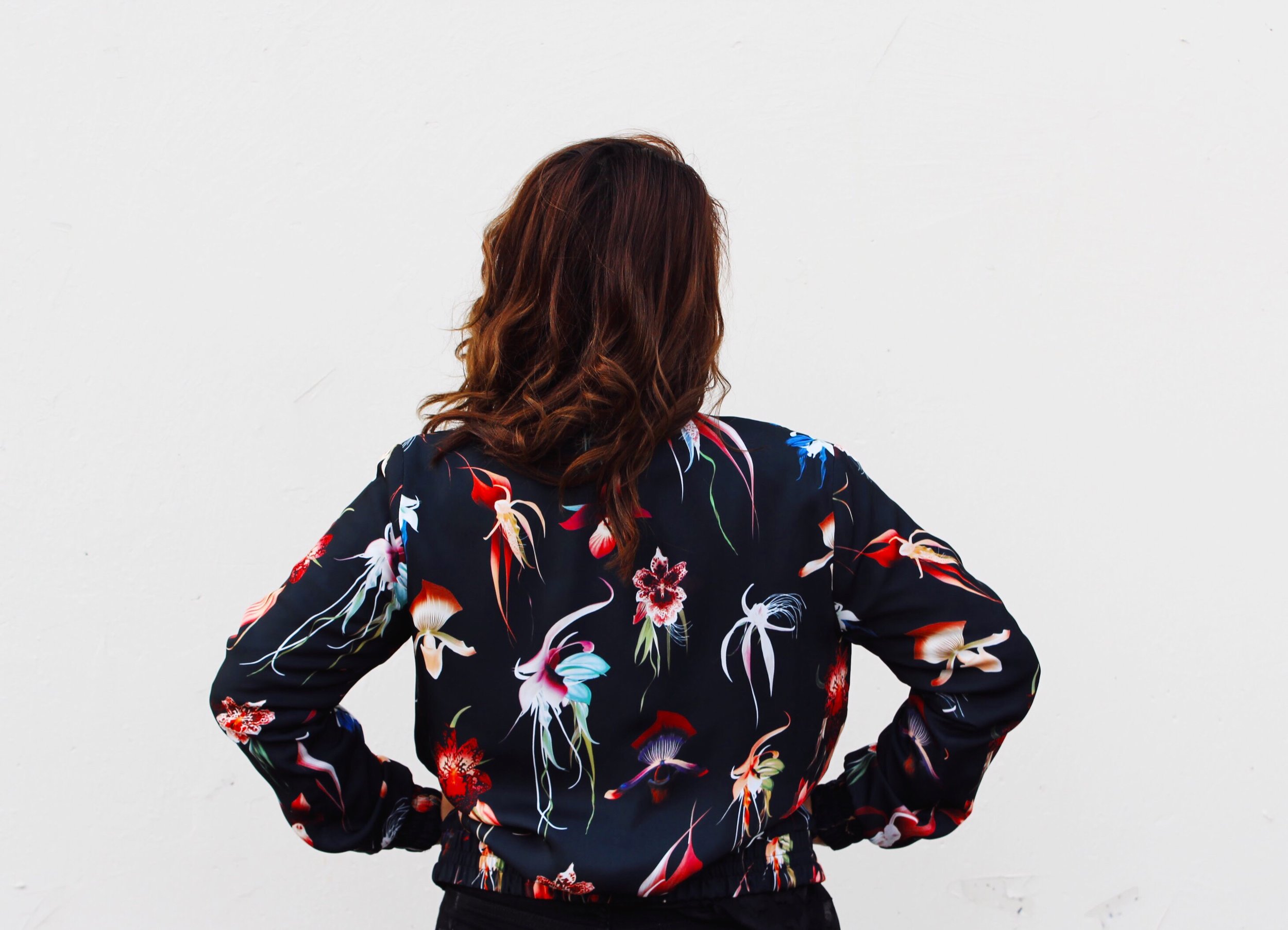 If you're looking for a simple way to add floral into your wardrobe and keep the vibe on the edgier side this embroidered rose crop top is the perfect solution. Keep the outfit dark and let the vibrant red color of the roses stand out. We paired it with high waisted jeans and a western inspired belt. We may have been channeling the late Johnny Cash for this outfit inspiration. His classic all black western inspired style is something we're on board with. What we're trying to say is along with all of Johnny Cash's great music he embodied a style that is the "rose of our hearts".
No matter how you choose to add floral prints and dimension to your outfits this week you can accomplish many different looks that speak to your inner fashionista! We hope you find the perfect floral prints and frills!
Share your floral and frill inspired outfits with us this week on Instagram and tag @ohhoneybeeispired! We can't wait to see your outfit creations!
xoxo
S&A
OHBI